Book Pimping: Mary Roach & Space Waste on TDS
Remember the famous "Spudnik" episode of Friends?
The one where Chandler makes fun of Ross for dressing up like galactic doody?
Well it never occur to me that doody could be intergalactic.
In Mary Roach's new book, Packing for Mars: the Curious Science of Living in the Void, the mysteries of life off Earth are explained in their totality.
Hey, if we're going to travel in space, we have to be prepared to deal with life in its totality–including space waste.
Watch her take on it as she is interviewed by Jon Stewart on The Daily Show after the jump.
Click on the picture to watch Roach's interview!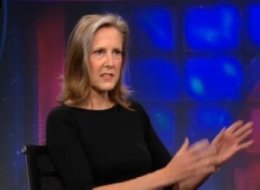 I've always read Mary Roach's books and found them informative and hilarious. I can't wait to read this one!!